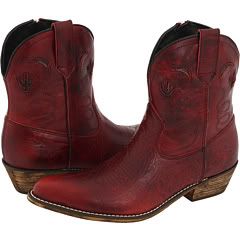 Dingo Women's Prince Street Boot in Red - Featured Women's Red Cowboy Boot
Buy it Online:
Dingo is part of the women's western bootie evolution - and it has produced a gorgeous selection here with the "Prince Street" bootie in a lovely dark distressed red shade.
Product Info:
Color:
Red
Dimensions (given a size 6 1/2):
Shaft height 7 1/2", heel height 1 1/4", circumference 12"
Details:
The Dingo Prince Street bootie is not only a cute style - it is well constructed and built for comfort! Upper constructed from leather, classic pull on style, with pull loops at the top of the shaft. Cushioned insole for added comfort, beautiful stitch details set off the look.
Sizing:
This boot is known to fit a bit narrow, recommended to order a bit of a larger size if you have a wide foot.
Reviews:
Click here for reviews on this boot