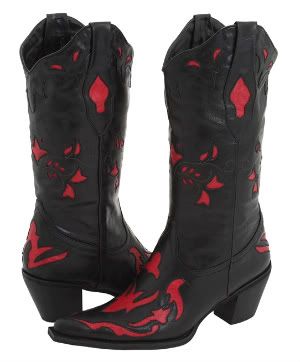 Roper Sydney Black - Featured Black Women's Cowboy Boots 2011
Buy it Online:
The Black Roper Sydney boots for women have a red inlay for extra flair. Slightly squared off toe - overall a very sharp look and one of the hottest sellers for women's black cowboy boots this year!
Product Info:
Color: Black with Red
Dimensions (based on a size 8):
Shaft height 13", heel height 2", circumference 14"
Details:
These boots are detailed to stand out and shine up any outfit! Traditional pull on style with pull loops at the top of the shaft, squared off toe for an extra fashion "punch." Comfortable insole, flexible outsole.
Sizing:
This boot is known to fit true to size
Reviews:
Click here for reviews on this boot