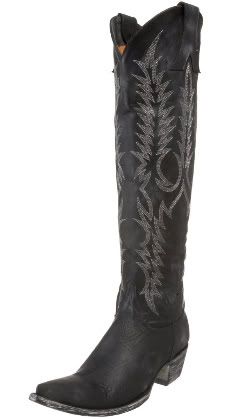 Old Gringo Mayra Women's Cowboy Boots
Buy it Online:
Unbelievably gorgeous - the Old Gringo Mayra boot! This boot is all about "tall" and "western" - a look that is right in line with current fashions these days - especially for those ladies who enjoy wearing western footwear that stands out among other looks.
The Mayra will come over the knee, with an approximately 18 inch height from the arch of the foot.
Product Info:
Colors:
Black, Volcano Brass
Dimensions:
shaft height 18", heel height 1 1/2", circumference 14 1/2"
Details:
This boot could be functional as a riding boot, or as its more obvious purpose - "gorgeousness". It is plenty eye-catching with its lovely long height and impeccable craftsmanship and detailing. It features a leather upper, leather sole.
Sizing:
This boot is known to fit true to size
Reviews:
Click here for reviews on this boot