Compare prices and selection on Lucky Brand Chelsea women's cowboy boots (booties). Get free shipping from most listings below: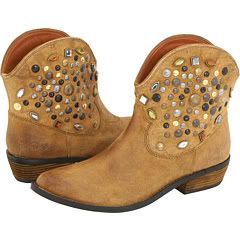 Lucky Brand Chelsea Western Bootie - featured Lucky Brand Cowboy Boots for Women
Buy it Online:
Thank you Lucky Brand from us western bootie lovin' ladies! The Chelsea is the second to come along of the cowboy western booties for ladies from Lucky, and what an ankle bootie it is! Lovely studding and a fun, cute look.
Product Info:
Colors:
Plum, Almond, Deep Forest, Black
Dimensions (given a size 10):
Shaft height 7", heel height 1 1/4", circumference 13"
Details:
Truly a charming boot - the Chelsea from Lucky Brand is a cross between "femme" and "cowgirl." Western inspired style, leather upper with a distressed finish. Stones and studs decorate the shaft, lining is man made.
Sizing:
This boot is known to fit true to size
Reviews:
Click here for reviews on this boot