Compare available Old Gringo Sharpecito women's cowboy boots - get free shipping from listings below: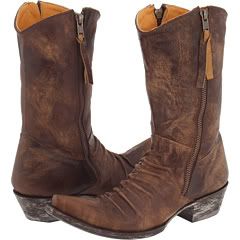 Old Gringo Sharpecito - Featured Old Gringo Women's Cowboy Boots 2011
Buy it Online:
One of the newer boots to be added to the Old Gringo women's lineup this year is the Sharpecito - a women's western boot definitely worthy of mention!
This boot has a unique look compared to other boots in the Old Gringo line, having a lovely "crumpled" and a bit worn look, side zip and in general is a gorgeous and unique boot.
With all of this, the style is still most definitely Old Gringo - a look that is hard to beat!
Product Info:
Colors:
Black, Brass and Red
Dimensions (given a size 7):
Shaft height 10", heel height 2 1/4", circumference 12 1/2"
Details:
Leather upper, gathered details at the foot and ankle area. Side zip feature for a more functional and fashionable boot. Lined with smooth leather, durable leather outsole. Like other boots from Old Gringo, the Sharpecito undergoes a meticulous 130 step process to create a perfectly crafted boot.
Sizing:
This boot is known to fit true to size.
Reviews:
Click here for reviews on this boot