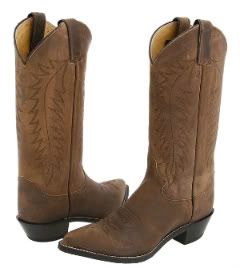 Justin L4935 - Featured Justin Women's Cowboy Boot 2011
Buy it Online:
The L4935 women's cowboy boot from Justin is a classic western style with sharp tapered toe and a gorgeous rich color.
These are a great "go to" boot for ladies who love a western style - also with a flexible sole for more comfortable fit, for longer periods of time.
Product Info:
Color:
Bay Apache
Dimensions (based on 7 1/2 size)
- shaft height 12 1/2", heel height 1 1/2", circumference 13 1/2"
Details:
Traditional western style boot, Bay Apache boot upper, welt construction with single stitching. Leather outsole. Special Justin comfort system makes these boots easy to wear for long periods of time.
Sizing:
These boots are known to fit a bit large. You may want to purchase 1/2 size down from your usual.
Reviews:
Click here for reviews on this boot.